Testing, Testing! Biochar and humus added to vegetable plots
We've been testing our soil additives by growing radishes in five sets of beds. And it makes interesting reading!
Spreading and digging in soil additives, be that lime, compost, colloidal humus, biochar or fertilisers, takes a lot of time and effort. The soil additives are costly; some are very costly.
What everyone wants to know is it worthwhile investing the time and money trying to improve soil?
In our tests* we're seeing:
+150% increase in crop weight

Growth x2.5 times greater than the control top soil
In our test beds we are seeing results from a negative 30% decrease in growth to a positive 150% increase in plant growth depending on the combination of additives used.
Thankfully we know we got a negative, and we know it's a quick and easy fix!
The greatest improvement in the crop yield comes when the top soil is amended with a mixture of additives that collectively:
Increase soil biology (bacteria and fungi)

Increase soil aggregation (tilth)

increase water retention

Increase nutrient flow
(You will note that many of these properties are opposites – for example increasing water holding capacity often results in reduced tilth).
Jason Hindmarsh supplied the top soil we used in the five raised test beds. He has been in the soil and compost business for over 20 years and when we showed him the five sets of radish (see photos below), he said: "Unbelievable, I have never seen anything like it before."
*Care needs to be taken when using a limited set of tests results. Looking at the research across the biochar sector; results vary from negative -30% to hugely positive +300%. Factoring in our expertise on what works and why it sometimes does not, using the results from our pot trials last year, we believe a conservative estimate for improving growth in a clay based soil will be +30%.
Some additives have just one effect (for example, adding nutrients) while others have multiple effects, for example supply of NKP nutrients, effect on water holding capacity, effect on tilth (crumb soil structure). We have worked carefully to analyse each ingredient and ask what it delivers, what other item can deliver the same benefit for less cost. By doing this we are able to optimise the use of expensive items like biochar and colloidal humus. By combining biochar, colloidal humus and compost, we can reduce biochar from application rates of 5 Kg/m2 down to 0.25 Kg/m2 yet still deliver better results.
Compost, colloidal humus and correctly charged biochar give an instant first year growth improvement. Each can also give positive results, but the 'right' mix gives outstanding results.
The big upsides of our mixes:
Biochar and colloidal humus are long lasting

We use less of the expensive items yet achieve better results

All the additives we use are from sustainable organic resources

The mix can be regenerated – next year, just top up the NKP nutrients – for example by adding bone meal or compost.
Contact us to:
Learn how to inoculated (activate, charge) your biochar

Learn how to make colloidal humus
Are you ready to take the challenge?
Sign up for updates. The results of our 'second early Charlotte potatoes' will be out next week. If the leaf growth is anything to go by, the crop weights will be hugely different.
Here are some pictures of the results:
Test bed 5. 2.5 times total weight of control set 1. Fantastic - 150% (x2.5) above control
Test bed 4. A whopping 93% (double weight) of control
Raised bed 3. -21% below control – can you figure out why?
Test bed 2. +75% above control

Control set 1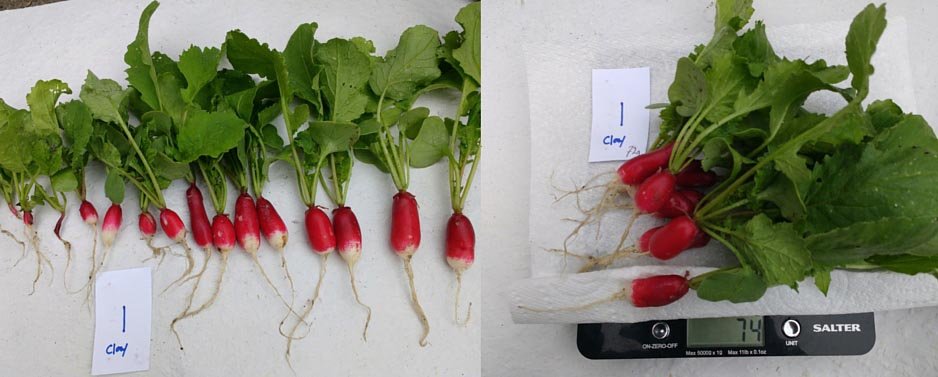 Using these results we can further refine our SoilFixer additives and help you use biochar, colloidal humus and compost for maximum benefit.